Go to Players / players list if you don't know for what team they are playing with.
Click on the player and check below in his profile. You will see NEGOTIATIONS ENDED/TRADE Request and you'll see where the player would like to be traded. He can still be trade to a team not in the list, but he won't sign with them.
============================
Alles JOUEURS/Liste des Joueurs si vous ne savez pas pour quelle le joueur évolue.
Cliquez sur le joueur et regardez plus bas dans son profil vous allez voir NÉGOCIATIONS FINIES/COMMERCE DEMANDÉ et vous allez voir le nom des équipes ou le joueur accepterait de signer. Il peut toujours être échangé à une équipe non sur la liste, mais ne resignera pas avec elle.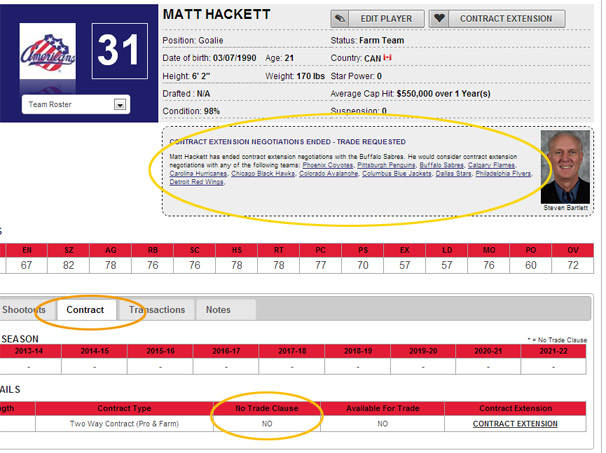 Before accepting a trade, if one of these players is traded to a team not in the list, the league will still seek confirmation from his new team they are aware they can't re sign the player. Even if this information is available on the portal, the team dealing the player should mention it to the other GM.
James Reimer
Matt Hackett
Julian Melchiori
Roman Josi
Josh Bailey
Alex Ponikarovsky
Mathieu Perreault
Nick Foligno
Michal Neurvith
Brodie Reid
Adam Almquist
Sam Gagner
Sena Acolatse
Michal Neuvirth
Anders Lindback
Matt Duchene
Ryan McDonagh
Cory Emmerton